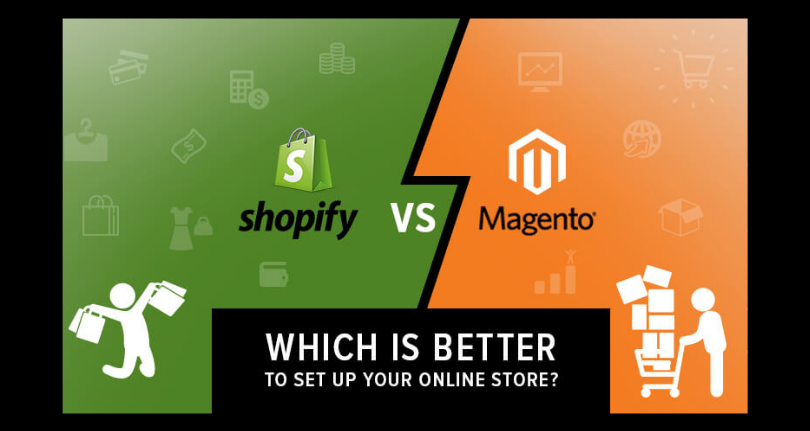 Shopify vs Magento
Deciding on the most suitable eCommerce platform for making, directing and retaining an online store is a very important one, as it will be the cause for the store success and failure. It is mainly essential for those who are handling small business with limited resources and budgets.
You may be bearing in mind about 'Magento or Shopify?.  Magento and Shopify are main eCommerce platforms available on the market today.
Shopify fulfills most of the e-commerce requirements beautifully and should be the first preference for most of the small to mid-e-commerce stores. One can also be a large store with a unique catalog and still do very well with Shopify.
Magento is for those who really want to make a large business out of e-commerce and have well-laid plans for it. Magento offers a host of marketing tools and this is what makes Magento cool. It allows to segment customers beautifully and applies different discounts to each segment as you like. Magento will also allow you to carry out private sales for valued customers.
There are two fundamental differences between Shopify & Magento:
Shopify is a commercial product (that you need to pay for) while Magento Community is a free, open-source software
Shopify is a hosted solution (where your store is hosted by them) while Magento requires that you provide your own hosting, install, setup and configure everything before you can actually start creating your store.
Areas where Magento excels:
Themes
Shopify offers a small range of themes. You can get some for free but you will have to pay for most of them. Even for the price point, these might be a little costly for some people. Whereas in Magento you can get a huge list of the responsive themes, both free and paid. You also get great customization option even in free themes.
Apps and Add-Ons
Shopify has a small collection of add-on but they do come with an easy installation process. Magento marketplace is full of options and a variety of extensions. You don't require any extensive coding knowledge to install and implement these extensions.
Product Management
Shopify allows you to add only 2 types of products i.e. simple and configurable products. It will work great only if you have standard catalogs and are trying to sell simple products. Magento caters to medium to large size businesses. It allows you to add different variety and more complex products like configurable, bundled, downloadable and virtual products.
Hosting
Shopify takes care of the hosting as it is a hosted platform. Here, you are free from all those nitty-gritty problems. But you also cannot do anything other than contact their support team if you face site speed issues. Whereas Magento is an open source platform which will give you full control, and freedom to make customizations. You will have to buy your domain and hosting.
SEO
You can get all the basic SEO options in Shopify. You can work on making your product pages SEO friendly and improve your site structure. Magento offers tools and extensions to help you optimize store design and the SEO strategy for maximum output.
Areas where Shopify excels:
Ease of Use
Shopify offers a simple and user-friendly interface. Even if you have zero technical know-how you would be able to work with it quite well. Magento can look a little scary at first. It does involve a learning curve as you will need to know certain terms to use this platform.
2.Payment Processor
Shopify supports all major payment processors and it also has its own processor that is very easy to use called Shopify Payments. This process is slightly long in Magento as you have to download the extension of the payment processor you want to add to your website.
Cost
In Shopify, all the hosting expenses are included in the monthly plan. For Magento, other than the domain name, you will also have to look for a hosting provider. The cost of hosting will differ as to which type of hosting and plan you go for.
Support
Shopify comes with dedicated customer support. You can also get help through the documentation on their official site. They will also offer you help with email, phone call or chat to solve your issues. Magento offers community-based support from Magento experts and developers. You can also turn to Magento Forums and Magento partner agency.
In general we like Magento for a powerful platform for larger and more complex product offerings and/functionality, Shopify has features that give small-to-medium sized businesses a great out-of-the-box eCommerce solution. Shopify is a user-friendly hosted option that allows you to focus on being an entrepreneur. Magento is a self-hosted option, better suited to large scale enterprises that come equipped with a full army of resources.
Feel free to add a question or query! Need a Magento or Shopify Consultant? Contact info@pykara.net. Visit our website www.pykara.net  for more details. Start your project here
Read: http://www.pykara.net/magento-community/
To read more articles http://www.pykara.net/blog/