What is the future of ChatBots?
Yahoo Messenger to GTalk and WeChat to Whatsapp, instant messaging has toured a great journey on its own. Since the last 25 years, chat services have become better and efficient in allowing us to send not just text messages but sharing images, videos, locations, doc files, etc. Ever heard of Chatbot? Let's find out.
What are Chatbots?

No one had ever thought to use chat for the business purpose, just because they were supposed to be informal communications. But in developing countries like India, people started using Whatsapp Chats to order products and for getting services locally. This inspired Facebook to introduce Chatbots in Messenger, which meant that to talk to the customer representative of the company you need not hold the line for minutes.
The Chatbot is an AI-based chat option, by which businesses can now make their own chat representative for the Messenger to tackle the most reasonable queries by the customers. These are austere software that interprets anything you type or say and accordingly respond by answering or executing the command.
Facebook has taken a leap from these personal bots by amalgamating two most popular technologies – instant messaging and artificial intelligence. If all goes well as devised, bots will know your likes and dislikes, remember what you asked them to do and help in making things easier for you.
Messenger Chatbot which can help users to do most of the things like ordering, knowing order status, call of action, etc. It has already 900 million active users on Messenger, it will be an advantage to Facebook.
User Experience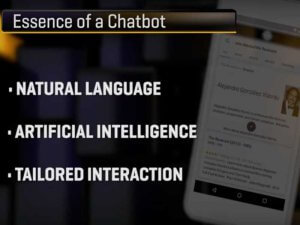 The best I think would be that we don't need to install so many apps to communicate with so many different businesses that we generally interact with. Communication will be more informal, just like we are talking to one of our friend on messenger. Simple texting will do all the thing needed and rest it's the AI behind that will decipher your words to come up with the most appropriate expression making you believe as if you are chatting with a human back there.
Why Chatbots for your business?

There is no business which doesn't want to grow and growth comes out of two things – quality product and market presence. You need both of them together to grow and sustain. Lets us see how chatbot can help your business:
The Smart AI technology in Chatbot will ensure it uses the right expressions while conversing.

The knowledge of Chatbot can be vast which it can use efficiently in chats.

The response time taken by chats is within a second, not letting the customer wait.

The data of chat though bots can be used more appropriately for the quality analysis.

This will not only save lots of time but also money that is spent on different platforms.

Chatbots will not only answer the queries but can initiate the action if programmed accordingly.
Messenger is on the verge of initiating a revolution of chat customer service. Facebook is generating tons of new data about how they want these chatbots to work and that is expected ultimately to make them more useful. Messenger is not alone working around bot technology, there is Apple's Siri, Google Now, Microsoft's Tay and Amazon's Alexa that is sure to give a great competition to Chatbot. Even instant messaging apps like Telegram and Hike have already launched their bots on their chat services.

We have always leaped newer and exciting technologies that can become a solution and ease the way of doing business.
Future of Chatbots is very bright. With so much advancement in Artificial Intelligence sector, chatbots are the future with zero doubt.
The future chatbot will not be just a Customer Support agent, it will be an advance assistant for both the business and consumer.
We as human are not fond of doing repetitive boring tasks. So in the future companies will hire AI Chatbot for the tasks which are repetitive and doesn't require creativity.
Also, Human doesn't like storing up contents (mugging up) in their mind. And today with the Internet they can leverage that part. So tasks which require storing the information (data) can be transferred to AI Chatbot.

And with AI Chatbot taking over repetitive boring tasks, Companies will utilize their human resources for more creative tasks. With this, we can expect more amazing things coming up to us in the future.
At present, there is a mixed review in users (consumer) of Chatbot. Majority of users are appreciating chatbots and its feature. Today with a chatbot, users get a lot of amazing features like Instant Replies, Shopping Bot, Shipment Tracking, etc. all that at one place, a single messenger platform.
Visit www.pykara.net for more details. Start your project here. Contact info@pykara.net for any info regarding IT solutions.
To read more articles http://www.pykara.net/blog/